DIVORCE ATTORNEYS IN OMAHA, NEBRASKA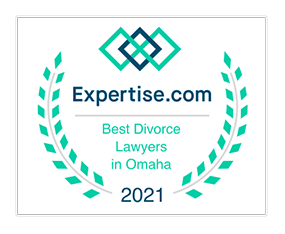 Going through a divorce can be an overwhelming experience. The divorce process can have significant ramifications on several aspects of your life, including your family, finances, children, assets, and friends. With all the misleading information out there, it's easy to make costly mistakes without proper guidance. If you live in Nebraska and are considering divorce or have just been served with divorce papers, it is crucial that you consult with an experienced Nebraska divorce attorney immediately for proper guidance.
At Abrahamson Law Office, we understand that divorce is highly individualized, and each case is unique. Our attorneys have dedicated their careers to handling divorce, asset division, child custody, and alimony-related matters. We will offer you the proper guidance, advocacy, and support you need to get through this difficult period and make the transition as seamless as possible.
Abrahamson Law Office proudly serves clients in Omaha, Nebraska, and neighboring communities of Douglas County, Sarpy County, Saunders County, Washington County, Otoe, and Dodge County.
Filing for Divorce in Nebraska
In 2018, there were 2.9 divorces per thousand residents in Nebraska. To file for divorce in Nebraska, you or your spouse must be a resident of the state for at least one year prior to filing. The legal process starts by filing a Complaint for Dissolution with the district court in the county where you or your spouse resides.
Contested vs. Uncontested
Divorces are generally categorized as a contested or uncontested divorce.
Uncontested Divorce: In an uncontested divorce, both spouses mutually agree on essential terms of the divorce, such as property division, spousal support, tax deductions, child custody, child custody, and visitation. The terms are then filed with the court for official approval.

Contested Divorce: In a contested divorce, the spouses are unable to agree on one or more essential terms of the divorce settlement. In this case, a court hearing or trial may be necessary and the judge will enter a final verdict.
Grounds for Divorce
Nebraska is a "no-fault" state meaning that it is not necessary to prove that either spouse committed any wrongdoing in order to obtain a divorce. The only grounds required when seeking a divorce is to affirm that the marriage is permanently broken.
Timelines for Divorce
In Nebraska, there is a 60-day waiting period after filing a dissolution until the divorce is final. The divorce process will certainly take longer if there are disputes over property or if there are minor children involved.
Dividing Assets and Debts
In general, both assets and debts are divided equitably, or fairly, in a divorce. Only the property or assets that are considered "marital property" are subject to division in a Nebraska divorce case. Though this is rebuttable, marital property includes property and assets acquired by either spouse during the marriage. Factors that are considered by the court during property division in the event your case goes to court can include:
The length of the marriage

Each spouses' non-monetary and monetary contributions

The current and potential earning capacity of each spouse

What the spouse may have sacrificed for the benefit of the marriage

Family responsibilities of each spouse

The best interests of your children (for those cases where there are children)
Determining Child Custody
When determining child custody, the best interests of the child are the primary consideration and as such the court will consider:
The child's health, safety, and physical wellbeing

Emotional and developmental needs of the child

The ability of the child to adjust to his or her new home, community, and school

The mental or physical health of both parents

The child's wishes or preferences as to custody (though children do not make the final decision, a child may have a voice based on the age and maturity level of the child)

History of child abuse, domestic violence, misconduct, negligence, or substance abuse from either parent
How Legal Counsel Can Help
An experienced family law attorney can help you decide the best course of action and help to navigate the terms and agreement of the divorce. Negotiating a settlement, determining child custody, or dividing assets with your estranged spouse can make the process even more complex. Thankfully, our experienced Nebraska divorce attorneys can offer the detailed guidance you need.
No matter what challenges you may be facing, our experienced divorce attorneys at Abrahamson Law Office will work with all parties involved to settle matters of property division, spousal support, child support, and visitation. We will fight compassionately to protect your rights and negotiate a fair resolution.
EXPERIENCED DIVORCE ATTORNEYS SERVING CLIENTS THROUGHOUT OMAHA, NE
If you are considering divorce or have just been served with divorce papers, call Abrahamson Law Office today to schedule a one-on-one case assessment. Our team will offer you the detailed legal guidance and advocacy you need during this difficult phase in your life. We are proud to serve clients in Omaha, Douglas County, Sarpy County, Saunders County, Washington County, Otoe, and Dodge County, Nebraska and beyond.